Awesome NEW Set for Adults: van Gogh's Starry NIght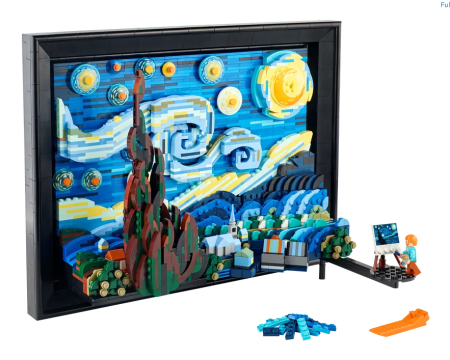 Get ready for one of the most exciting new releases from LEGO Ideas: a fun art-inspired piece based on the famous Starry Night painting by Vincent van Gogh.
The brand new set for 2022 is a 2316-piece build that will leave you with an awesome display piece that's perfect for all LEGO fans and art fans to share the beauty of Starry Night.
Build the magical scene of swirling blues and yellows inside a bold black frame. The 3D Starry Night LEGO display work includes a minifigure of the artist himself, maestro Vincent van Gogh, along with a minifigure-sized easel and its own little version of Starry Night. The minifigure, a redhead with a red beard, includes a color palette and a paintbrush accessory.
Stand the completed work on a surface, with Vincent van Gogh attached via an adjustable arm. You can also mount the piece on the wall with an included hook.